2016
Sunday 13.03.2016 our judge was Wim Wellens, Holland, and again Asta/Bella was BOB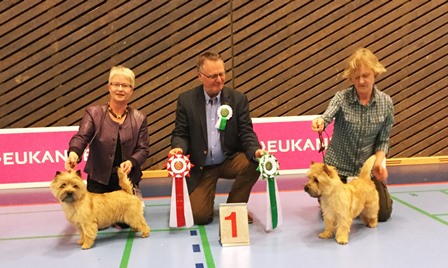 and then it was again time to go to ring of honour, where Bella was BEST IN SHOW No. 2 .....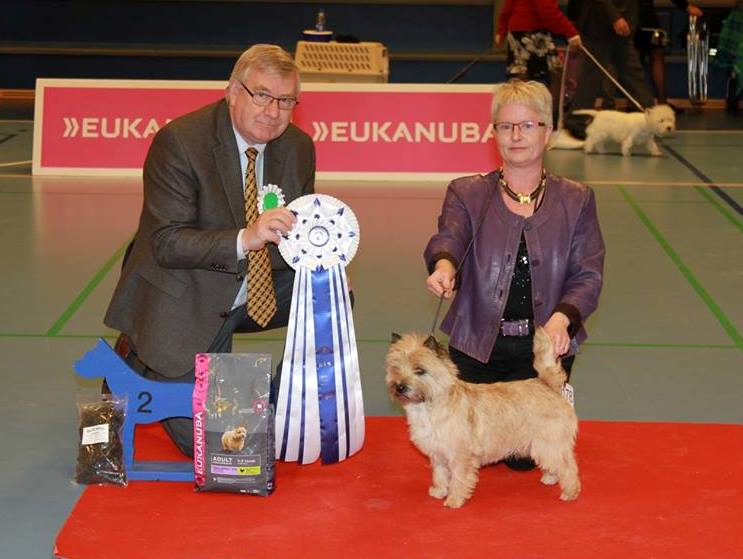 I'll need a couple to days to let the results sink in!
Danish Terrier Club's Chantelou-show in Hårlev on 12.03.2016 under judge Kr. Andersen, Norway, Asta/Bella was BOB



and later in ring of honour under judge Wim Wellens, Holland, BEST IN SHOW !!!!!!!!
My goodness that was HUGE.



I was told the best picture was my espression, when Bella and I won BIS.

Asta/Bella in 2015.

På årsafslutningen i januar 2016 fik jeg følgende med hjem som resultat på årskonkurrencen 2015:

Fra Søren og Lotte Thomsen modtog jeg en sød cairnfigur - tusind tak, det var meget sødt og betænksomt.
Kennel Tjep's Mindepokal II til Årets Cairn Terrier i modsat køn med tilhørende roset. Denne pokal er første gang uddelt i 1986 og det er spændende at se de hunde, der tidligere har vundet.
Vandrepokal ti Årets Bedste Fynsk/Jysk opdrættede og ejere cairn terrier tæve med tilhørende roset. Denne pokal ser ud til at være udgivet første gang i 2001.
Fra det store amerikanske lotteri, var jeg den meget heldige vinder af endnu en cairnfigur, som var lige netop, hvad jeg gerne ville vinde.
Sidste roset for placeringen som Årets Cairn Terrier nr. 3.



09.01.2016.



Today in Nürnberg, South Germany, Bella finished her German VDH championship (Devdhch) under judge mr. Rainer Jacobs and also got an unexpected extra title as Alpen Winner 2016, when she won BOB. Also showed Codlin's son, Cashi's Frederik Of Ronja for my friend Dana with very pleasing results as he won champion class and got another VDH CC.





Thanks to Jackie, who took the pictures and to Dana and Walter for hospitality and great service.
<< Start < Prev 1

2

Next

>

End

>>


Page 2 of 2